Mind, Body & Spirit
We believe yoga is for everyone. Yoga is so much more than becoming fitter, stronger, and more flexible. Beyond the physical components, yoga is about feeling more and "doing" less. It is about surrender and learning to follow your heart. The principles of yoga are simple: The mind, body, and spirit are interconnected as one.
Introductory Special
$50
for 30 days
First time students enjoy unlimited yoga for 30 consecutive days! Local Residents Only, must show ID.
Monthly Unlimited
$99
Per Month
with auto-debit &
6 month commitment
Class Passes
$75
5 Class Pass
10 Class Pass - $140
20 Class Pass - $260
Monthly Unlimited
$140
1 Month Unlimited
3 Months Unlimited - $395
6 Months Unlimited - $575
Yearly Unlimited - $1200
Student with ID
$14
Drop-In
5 Class Pass - $65
10 Class Pass - $120
Yoga Classes
All of our yoga classes are heated using infrared heat. This type of heat warms the body versus the air, providing for a breathable and efficient therapeutic workout. Infrared heat improves flexibility & joint mobility, promotes healing, increases circulation, removes toxins, decreases soreness along with many more health benefits.
Vinyasa Flow
Get your flow on in this dynamic, empowering, & vigorous class set to inspirational music. Rooted in sun salutations, this flow-based class links breath with movement, creating a dance-like moving meditation. Students build heat, strength, and flexibility. All levels are welcome.
Yoga Roots
Build your practice from the roots up. This foundational class will often begin with sun salutations, moving into a slower-paced flow sequence and then spend time exploring poses on a deeper level. Teachers will offer modifications for all levels of practice. This class is great for beginners and students interested in refining their practice.
Level 2-3 Vinyasa Flow
Ready to turn your Vinyasa practice up a notch? This class will help you build endurance, strength and flexibility with a strong focus on matching the breath to the movements in Sun Salutation format. This class is designed for seasoned practitioners with at least 1 year of experience.
Gentle Yoga Flow
Make the most of your weekend by relaxing and releasing sore muscles after a long work week or a weekend of hitting the slopes. This gentle flow will melt away every last drop of tension and re-set your mind & body for the week. All levels are welcome.
Fitness Classes
While we are rooted in yoga, we offer other fun fitness classes to liven up your day.
Our fitness classes are not heated and are open to all levels.
Barre
Barre is a total body fitness routine utilizing a combination of Yoga, Pilates and Ballet technique. With the support of a ballet barre and mat work Barre helps you to create a centered, strong and toned body. Increase your sense of balance, strength and flexibility. Build the elegant, strong and lean muscles of a dancer and have fun while you do it!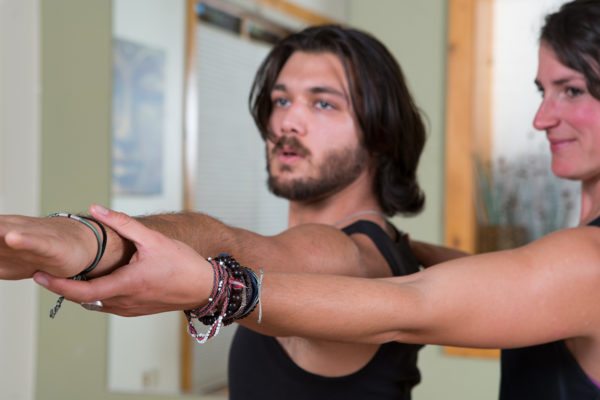 All Levels Welcome
We offer classes for all levels of practitioners. New to yoga? Our Roots classes are a great place to start!
Our Teachers
Our team of certified teachers lead safe, compassionate, inspiring and skillful classes that restore the mind and body.
REGULARITY OF PRACTICE
To experience the optimal benefits of Yoga, it's important to practice regularly. We recommend a minimum of 3 times per week. Whether in class or at home, practicing Yoga on a consistent basis will accelerate your learning and greatly enhance your overall health.
ARRIVAL & REGISTRATION
Please arrive to the studio 10-15 minutes early to register, pay and get ready for class. Your practice begins when you arrive at the studio. Please remove your shoes & turn off your cell phone.
LATE ARRIVAL
If you arrive late, please be mindful of the class as well as the teacher. Waiting until the opening meditation or chant has finished will help minimize disruption.
MATS, TOWELS, WATER & PROPS
While we do have public mats available for use, we recommend that you bring your own mat. As our classes our heated, you will likely need a towel to use during class. We have them available for rent should you forget to bring your own. You are welcome to all of our props including blocks, blankets, etc. Please bring water to hydrate during class.
LEAVING DURING SAVASANA
Please refrain from leaving class during savasana, our final resting pose. We highly encourage you to stay and enjoy the full benefit of your practice. Leaving during this final part of class can also be highly disruptive to other students.
PAYMENT
Payment is due on the same day of a session or class. We accept credit, cash and checks. You may also pre-pay for classes by signing up online.
CANCELLATION POLICY
Please understand that for all classes that you sign up online, we require a minimum of 1 hour notice to cancel or there will be a full service charge.
HEALTH CONDITIONS
Consult your physician before starting any new exercise regime, especially if you have any health issues. Inform the teacher of any serious health conditions such as neck, back or joint injuries, glaucoma, heart disease, high blood pressure, recent surgery or pregnancy.
MEDICATIONS
Do not practice yoga while under the influence of alcohol or drugs (including prescribed drugs) which may alter your ability to judge your physical capabilities.